Achievements/Awards - Slovakia
Share
Bratislava/Slovakia 19 October, 1984 – 3rd edition of National competition in folklore choreographies – The group earned 3rd place for the dance "DUPLOVANA", small dance choreography
Povazska Bystrica/Slovakia 13–16 November, 1986 – National competition of folklore ensembles – 30 minute long performances – Diploma and Award for the best choice and formation of the original folklore tradition
Humenne/Slovakia 25 April, 1987 – The group earned 2nd place in National categorisation of folklore ensembles – (B category)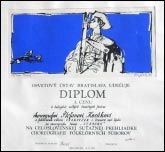 Bratislava/Slovakia 20-22 November, 1987 – The 4th edition of National competition in choreographies of folklore ensembles. The ensemble earned 2nd place for the performance of dance called "VERBUNK" in large dance choreographies
Bratislava/Slovakia 26 October, 1988 – The Ministry of Culture of The Slovak Republic awarded Vranovcan with the title "The Best Model Group of Free Time Artistic Activity"
Povazska Bystrica/Slovakia 21 October, 1989 – National competition of folklore choreographies – The group gained the prize of the competition for the scenic part called "NEVESELE VESELE"
Povazska Bystrica/Slovakia 19 October, 1996 - Festival of Folklore Ensembles – national competition in folklore choreographies. The ensemble earned a diploma and a prize for the styled dance and song interpretation of the dance called 'SPOD OBLIKA'
Vranov nad Toplou/Slovakia 6 November, 1998 – The Town of Vranov nad Toplou rested the group with Honorary Acknowledgement For The Development of Culture and Expressive Representation
Bratislava/ Sloavkia 7 November, 1998 – General Director of The National Educational Centre in Bratislava PhDr. Jan Tazberik, CSc. rested the group with The Prize of Gabriel Daniel Lichard for A Long Time Artistic and Educational Activity with the occasion of the 30th anniversary of the foundation of The Folklore Ensemble Vranovcan.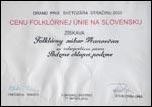 Banska Bystrica/Slovakia 17 March, 2000 - National competition the 'GRAND PRIX OF COMPOSER SVATOZAR STRACINA 2000' – The ensemble won the major prize of the Slovak folklore Association for the interpretation of the song called "PODZME CHLAPCI PODZME"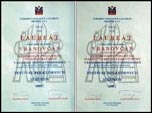 Liptovsky Hradok/Slovakia June, 22 June, 2002 – National competition of folklore choreographies. As the first ensemble in the history of the competition VRANOVCAN won the 1st place in both categories for the dances, `STARODAVNA KRUCENA` (small choreography) and `PARCHOVANY` (large choreography)
Kosice/Slovakia, 27th June 2008 – Nationwide competition of folklore collectives in creative choreographies – 1st place in the category of chamber choreographies for the dance called Saffa's dance.
Presov/Slovakia, 17th December 2008 – The Chairman of Presov Self-Governing Region MUDr. Peter Chudík awarded the artistic leader of the group Štefan Kocák with the Prize of the Chairman of Prešov Self-Governing Region for significant personal contribution in preservation, protection and development of the jewels of the Slovak traditional folklore culture.